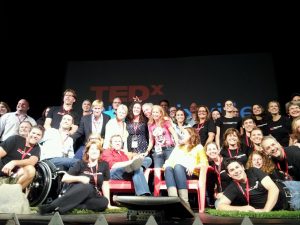 What an amazing experience at TEDx in Phoenixville PA "Your Back Yard" October 6th! The highlights?!?!
Our Hosts; Kelly Stoetzel, Director of TED Content and TEDActive and Rives, Storyteller/Poet and all around FUN guy did an amazing job making us all feel fabulous! I am so deeply grateful to have been selected to be a part of this Inspiring and Motivating Event!
Kyle Bryant was the MOST Inspiring presenter of the day. Frederick's Ataxia has not stopped him from riding his recumbent bike cross country in the Most Grueling Race EVER; Race Across America. His team of 4 completed the race in 8 days 8 hours and 14 minutes riding something like 20 hours a day. Kyle sees what he CAN do and DOES it! He is raising millions for research and is motivating many to Do what they CAN which is always something. You can read more of his story here: Kyle Bryant
Rob Mattox shared the KEY to truly helping the Poor = HOPE via Creating, Contributing and sense of Community! I could not agree MORE! He's traveled to 19 different countries & is currently store manager for Liberty Thrift and Home Furnishings in Collegeville, a non-profit thrift store that supports Liberty Ministries in extending HOPE.
Dean Carlson's very frank, funny and forthright Talk about the economy and sustainable farming; True Story: he left the world of Finance to become a Farmer! You can read more here: Wyebrook Farm
Living Dreams in Important, just ask Kit founder of "The Kit Project" to raise funds for the The Kao La Amani orphanage where she lived and worked for five months. During her stay she coordinated the construction of a four-room school and took steps towards making the orphanage a self-sustaining organization. By far, the most important roles she served while in the home of 27 orphans was that of chief hug giver, personal jungle gym, and dada (Swahili for sister) by learning how to cook, clean and shop like a native African woman.
I was Fortunate to speak LAST about Every Day Superheroes in Our Own Back Yard. Grandma got a shout out (literally) for rescuing me from that Sycamore tree when I was 6 and I spoke of our Inner Superheroes; time to let 'em out! Being a Superhero is not about leaping over the tallest building but often about leaping across a comfort zone. If I can do it, Anyone can! I am Not Special, I am Not Super. I am an utterly flawed human being who took a chance, made a choice and leaped. Get out there and DO whatever it is YOU would DO to make this world just a little more SUPER!
And never underestimate the power of small actions.
HUG! (A free one of course)
and oOOoOOoOOooOoo Bubbles!
Kristin