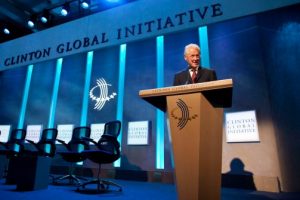 Last week the Clinton Global Initiative held their 2013 Conference in NYC. Imagine 1200 of the best and brightest converging in Manhattan to share ideas and projects from around the Globe. Sean Penn was there & spoke about his work in Haiti, J/P HRO , Bono was there, the entire Clinton family was present, as was Muhammad Yunus the Founder of Micro-Finance. I am honored to be part of this group through Hilary Wallis' amazing Artfully AWARE project. Though I did not have the privilege of attending the CGI Conference I lived vicariously through Hilary's experience. She shared the inspiration she felt in that 4 day flurry of activity; Hilary is a dynamo and completely committed to learning all she could and shared her insights with others; she attended EVERY Single Session offered starting at 7am and ending at 11pm.
We both are energized by the Possibilities inherent in being a part of this prestigious group. As the Lead Facilitator for Artfully AWARE I look forward to collaborations and to sharing our message globally; the Power of People's Stories to positively impact themselves and the world. October 28th I will bring Artfully AWARE's Story Book Project to Ghana where I will interview & collect life stories from people in 6 communities. December 7th I will represent Artfully AWARE at the CGI meeting in Haiti and begin making connections for collaborations collecting Haitian stories of resilience and highlighting the talent within.
It is an exciting time; there is so much we can do to build bridges between peoples and cultures through their Stories. To illuminate the inherent talent which exists in Every country on this planet, to dispel myths, to honor indigenous people's and their ideas, to break the pity/poverty model and encourage the sharing of projects and solutions rather than focusing on problems. I am hopeful and energized.
Artfully AWARE also has Consultancy status with the UN; we plan to utilize this status to offer Training Workshops to other NGO's who may wish to gather their own stories of resilience from the communities and people with whom they work.
If you would like to get involved and help us spread the Power of People's Stories to make a Positive Impact, please contact us  Kristin.Pedemonti@ArtfullyAware.org  or Hilary.Wallis@ArtfullyAware.org